Smoking Wood Figurine or German Incense Smoker Uses
Smoking Wood Figurine or German Incense Smoker Uses
A German Smoker is an incense holder of sorts. They come in a variety of shapes and characters, some as buildings, others as stoves and many as various people - occupations. All of the smokers have a spot where incense is inserted and lit and have a sometimes humorous method for the smoke to escape. We have heard of and seen our German smokers used in many creative ways. Many families have incorporated them into family Christmas traditions that are unique and filled with fun.
1) A German Incense Smoker makes a terrific fragrant table centerpiece. Place them on a small stand or surround them with holly.
2) Collect a number of German smokers and line them across the fireplace mantle. It is an easy way to have the scent of a fireplace without having to stock the wood and clean up the soot.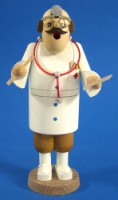 3) Many people have used German smokers as comical fun gifts. This is especially common with the occupational smokers.
4) One of the most practical uses for a German Incense Smoker that we have heard of and a very attractive use too, is to incorporate it as a classy bathroom decoration. The wafting incense is a great way odorize a room.
5) Various characters of German smokers have been used as characters in a vintage train set. The setting came to life as smoke could be seen rising from the Chalet Building German Smoker and from an assortment of peddlers and a couple playing chess. All of them were smokers.
6) One shy individual used his German Smoker as a practice audience for his Holiday toasts.
7) A set of grandparents used their German Smoker to help entertain their grandchild. They would set the Smoker in various parts of their home (ex: a bookshelf, or half hidden on a mantle) and their grandchild would have to find it. This game was inspired by "Where's Waldo" mixed with "I Spy." We suggest that your German Smoker is unlit or out of a child's reach if you try to implement this "game."
8) Collect a German Smoker neighborhood or group of pub pals. This was used as the theme or mood setter in a Christmas party, which featured microbrew taste testing.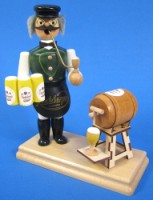 9) One family enjoys creating gingerbread houses each year for the Holidays. They use two German Smoker soldiers to stand guard outside their gingerbread castle. We suggest the ginger or lebkuchen incense if you incorporate your Smoker into your gingerbread houses.
10) Include a German Smoker into your buffet as a decoration and as a mood setter with an appetizing scent.
We know that you will or are enjoying your German Incense Smoker as much as we are! If you have a moment, drop us a line. Let us know where you have placed your Smoker in your home or how your family is using them to celebrate the holiday season.