I love flea markets
I love flea markets
I love flea markets. The prospect of finding a great deal from an unsuspecting seller gives me a thrill. It is amazing to read about what kinds of steals people have previously found at a flea market. A $150 lamp was purchased for $15, a $200 vase for $30. The possibilities are endless! As a result of my infatuation with flea markets, I have traveled throughout many different states in order to visit the largest and most important. During one of my travels to Pennsylvania, I happened upon one flea market, the Neshaminy Market, in Bensalem. It was my first time there and I really did not know what to expect. It was a warm Saturday morning (the best time to go) and on this particular day, the area was packed full of people. I was hoping I for the best, a perfect souvenir to take back with me. As I walked past the first few tables, my eye caught on a medium-sized nutcracker. Before I go any further, however, I must explain why the nutcracker caught my attention in the first place.
My first German nutcracker was given to me by my father seventeen years ago.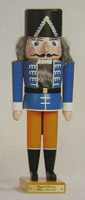 It was an 1870 Hussar Nutcracker made by the Fuchtner family and signed by Volker Fuchter the director of the company. He gave it to me not only as a Christmas gift but also because I can actually use it to crack walnuts, pecans, pistachios-all my favorite nuts! Since that beloved Christmas, I began collecting nutcrackers that I thought held sentimental value for me. The first one that I bought for myself was the Hungarian Cavalry nutcracker. One of my best friends in high school was born in Hungary and had told me a lot about the country. During the summer of my sophomore year, I was able to visit the country with her. Thus, when I began my collection and I was browsing to see which ones I wanted to get, I knew that I had to purchase the Hungarian nutcracker. He is a very attractive officer with white hair, a plumed hat, a saber, and sparkling white teeth.

The third nutcracker that became a part of my collection was the German nutcracker with a drum. My husband likes to play the drums and so I knew the nutcracker would serve as a reminder of his musical talent, even though he doesn't dress in the garb that this particular German nutcracker is wearing. The drummer nutcracker is dressed in the formal attire that the royal marching band wears.

He has the England crown etched on his tall hat and his drum is slung over his shoulders, hanging in front of him. He carries a drum stick in his right hand as if he is ready to play at any time. The next German nutcracker I bought was the German naval officer nutcracker. My old professor in college, one of the most influential people in my life, used to be in the navy. He served there for 15 years before deciding to start a career in teaching. I respect him greatly and thought that the naval German nutcracker was a perfect choice to add to my collection.

This nutcracker stands at attention, willing to follow his admiral in whatever he orders. He has bright blue eyes, is dressed in blue naval attire, and carries a sword on his left side. His blonde, almost white, hair and moustache and beard give him a vibrant and charming appearance. The fifth nutcracker, one of my favorite, is of a Scottish/Irish nutcracker dressed in a kilt and holding bagpipes in one hand. I'm sure you are probably thinking that I must have a aunt or an uncle or maybe a cousin who was born in Scotland. However, the fact is that I do not know anyone from Scotland or Ireland. I bought this nutcracker because it reminds me of a time long ago before my husband and I were married when we attended a Saint Patrick's Day parade in Maryland.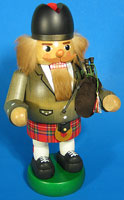 There were many people in kilts and playing bagpipes. We had such a good time that I wanted something to always remind me of that day. The Bagpipe nutcracker with his dirty blond hair and cultural attire serves this purpose. My next German nutcracker was an equestrian nutcracker. This one was to remind me of my mother. She loves horses and used to train them professionally. My mother has become a very close friend of mine over the years and I bought the Equestrian German Nutcracker in honor of her. This nutcracker is dressed in a yellow jacket and riding boots. He holds a riding whip in one hand and a bugle in the other.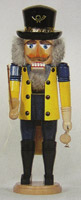 This last nutcracker completed six in my collection. I could not find any other nutcrackers that held any sentimental value to me. I had no fireman in the family (there are many German fireman nutcrackers), no policeman, and no king. Thus, I had to stop collecting, at least for the time being.
Now, I will return to the present story about the flea market. As I made my way to the table, I hoped for the best-that this nutcracker would hold value to me and I could purchase it. I had promised myself before that I would not buy a nutcracker unless it meant something to me and so I was waiting for the right one to come along. A frown came over my face when I saw the nutcracker. I did not recognize it from any of the other German nutcrackers I had seen previously. Then I realized what it was. It was a robber nutcracker! Immediately, I thought it was a cleverly designed nutcracker. This robber is a sitting robber nutcracker. He is holding a club in one hand and a bag in the other, awaiting any unsuspecting strangers that may be walking by. How would this nutcracker be a valuable part of my collection? In fact, he would not. As soon as I saw the humorous figure, I could not help but add him to my collection. I broke the promise to myself but I gained a comical nutcracker in the process. And if anyone asks about him, I will always say that he reminds me of how blessed I am that I have never been robbed.