Building the Family Tree of German Smokers
Building the Family Tree of German Smokers
One of my favorite types of German decorations are the German smokers. For those who are amateurs in the German wood craft world, German smokers, or incense burners, are German designed and carved characters that always carry some type of pipe that can burn incense. There are many different kinds of smokers: a professor, an architect, a barmaid, and many more. Each one is unique and delicate. These German smokers make great gifts for family and friends on birthdays and Christmas. If you have a large family, you can do what I have done: built my family tree of German smokers.
What does that mean? Throughout the past few years, I have given each of my family members a smoker that most represents them. I gave my father the first one. Since he is an agriculturalist and loves to grow plants and trees, I knew I had found a treasure when I ran across the Florist German Incense Smoker. This cute smoker carries a pipe for the incense in one hand and is fully loaded with flowers and flower pots.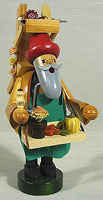 My father loved it when he saw it and now displays it in his study. I knew I had hit the jackpot when I saw how much he liked it. I have never enjoyed giving presents because I never know what kinds of gifts to give. Some people are satisfied with anything, others with nothing. Thus, I decided to start a tradition for myself. I would give all my relatives smokers pertaining to their lives. Christmas came around again and I decided to give my mother her own smoker. Since she is an excellent cook, she received the German Cook Smoker. She laughed at how comical he looked but immediately placed him on the side table.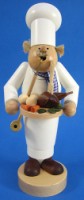 This smoker has a long pipe from which the incense burns and he holds a tray with vegetables and a chicken. It looks like he is on his way to preparing a delicious meal. My sister's birthday came around and since I wasn't sure if she would enjoy having one of the smokers, I chose to purchase her a mini Christmas German smoker. She enjoys painting and art in general and so I knew that I had to try to find her one that was an artist. I discovered that there was a German painter smoker available and so I bought it. I was amazed at how much she liked it. She found it amusing that his white apron was all splattered with paint even though his paint roller did not have an ounce of paint on it. We wondered what his story was. Perhaps an accident?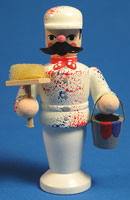 My other sister dreams of having a career in the medicine field, as a doctor or a physician's assistant. And when I searched for a German doctor smoker for her, I was expecting to see only males since most of the smokers are male. However, I was unbelievable excited when I noticed there was a female doctor. She loved the gift and especially since the doctor has brown hair just like her own!
Another Christmas rolled around and I decided that my grandparents were going to be the object of my search this year. My grandfather was first. I was elated when I found the German Teacher Smoker. Equipped with a blackboard, a textbook, and a pointer, this professor looks wise and knowledgeable. My grandfather used to be a biology professor for a college and I knew this would bring back old memories for him. When I handed it to him, he smiled and thanked me profusely and proceeded to mount it on the bookshelf.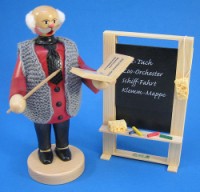 Picking out my grandmother's was simple. I found the perfect German Oma Smoker. Oma is grandmother in German. This oma is sitting in a rocking chair drinking a hot cup of tea. She has an adorable white bun on the top of her head and she is yawning, tired from the day's work. My grandmother thought it was great. She joined her German smoker with my grandfathers.
Next was my aunt, a pharmacist for almost ten years. The one and only pharmacist German Incense Smoker was the perfect gift for her birthday. This smoker is ready to prepare any medicine with his mortar and pestle. In one hand he holds a medicine bottle and in his other, his incense pipe. A fan of anything related to the pharmaceutical field, she fawned over him and carefully placed him on her piano.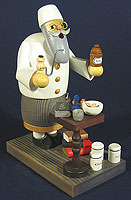 I then decided to buy German smokers for my other grandparents. The third Christmas came and I gave my grandmother a Gingerbread Lady Smoker. She is always making food and perpetually has baked goods available in case a visitor drops by unexpectedly. I thought this was an apt gift for her.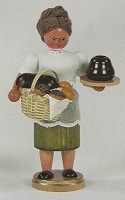 I bought one of the opa incense burners for my grandfather. Opa is grandfather in German. This smoker shows an older opa sitting by the stove warming himself. I know that since my grandparents live in an old house, they have to rely on their fireplace for much of the heat. I had seen him sitting by it once before and knew that it was a good representation of him. My grandparents' smokers now sit side-by-side as a centerpiece on the kitchen table.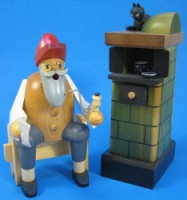 I am still in the process of building on to my family tree. It is easy and fun and it relieves the pressure from having to find a gift elsewhere. Rather than having to go to five different stores in search for that perfect gift, I now only have to look on one site. It takes me less than one hour to complete my hunt. I recommend it to anyone.