Preparing a German Christmas Party
Preparing a German Christmas Party
Mood Setting with German Imports:
For background music, play a CD of traditional Christmas carol instrumental music played by a brass band. Brass Band music is the typical accompaniment of the carolers at the Christkindlmarkts throughout Germany. Consider also having a time for singing carols as a group.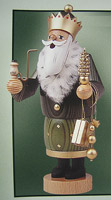 Use a German Smoker filled with ginger or another Christmas incense to help permeate the atmosphere with the merriment of the holidays. Many smokers are jolly in the characters they portray and will help bring a smile into the Holiday festivities.
What to Serve:
In Germany there are several foods which are associated with the Holiday season. These include:
Christstollen – This is a braided fruitcake made of almonds, rum, candied lemon and orange peels.
Gluhwein – This is a mulled spiced wine. If possible, make this immediately prior to your gathering and allow it to simmer as guests help themselves.
Lebkuchen – Gingerbread! Serve gingerbread men with a gingerbread house decorated on the table beside them. If you are adventurous, have a gingerbread house-making contest – the winner can receive a prize of a nutcracker or other German ornament. If you have made your gingerbread a day or more before your gathering, consider using a German smoker to simulate the scent of fresh baked gingerbread with incense.
Quetschenmännchen – Plum men. At one time these were given by young men to the gals they wanted to court, today these fill the day with love and fun. Make your own Quetschenmännchen by making a man out of prunes on toothpicks. Give them a set of clothes and a smile with icing and the silliness is ready for eating.
Brenten – These are almond cookies cut into various shapes. One way to serve these German cookies could be as ornaments on a small Christmas tree.
Dinner – Traditional German Christmas dinner is Carp or fish (especially on Christmas Eave) and a Goose or other bird roast (to be served on Christmas day). These are served with sides of potato salad or potato dumplings, apple and sausage stuffing and cabbage.
Using Pyramids, Nutcrackers and Smokers for Decoration:
A German Christmas party would be a great time to highlight the handcrafted holiday pieces you have collected. Bring out the candle pyramid – if you are short on space, use this in place of a Christmas tree. Emphasize your nutcrackers by placing them in a line over the mantle or as guarders of the gluhwein and lebkuchen.
Use lots of evergreen boughs and candles. Keep in mind that the Christmas tree originated in Germany. You can use the tree to display German ornaments, remember the old German Christmas tradition and hide a glass pickle in your tree and provide a silly prize for the person who first finds it.
The Special Touches:
Bring out the advent wreath and candleholder. Place them in a prominent place in the room, like near the entryway or on the punch table. Next to the Advent Candles place small cards explaining the meaning of each candle or use an advent calendar as a backdrop and allow the small windows to be self-explanatory to the curious.
Create a napkin ring or cup marker from wire and small German Christmas ornaments. These could also be used as party favors and would be a great keepsake or reminder of the evenings fun.
If you decide to give gifts at this gathering consider making the rule that all items must be hand made. These can be purchased but are even better if crafted by the giver. Germany is known for its Christkindl markets as these are places not yet tainted by mass-production and commercialism. At these Christmas markets, people are able to purchase unique, handcrafted gifts. Remind your guests of the simpler life by encouraging gifts to be small and made by hand. You can make the gift giving a fun time by incorporating it into a game. If you are giving out party favors consider bestowing Christmas ornaments and display them on the tree prior to handing them out.
Above all remember, Frohe Weihnachten (or Merry Christmas)!