Personalized Christmas Ornaments
Personalized Christmas Ornaments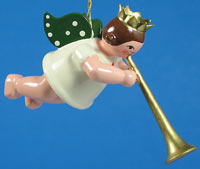 Giving a personalized Christmas ornament is a wonderful tradition for Christmas time. The Christmas season is all about giving to those we love and what better way than to give them something that shows you took the time to create something unique just for them. A Christmas ornament that has been personalized does not have to just hang on a tree, these Christmas ornaments can be used sitting on a shelf, hanging on wreaths or used as a centerpiece to complete a Christmas dinner table. Whether you chose to buy a Christmas ornament that can be personalized or make your own creation, you can be assured that the recipient will cherish the moment Christmas after Christmas when they pull out their Christmas ornament.
There are many stores that offer Christmas ornaments that have been created specifically for personalization. Often times, a character such as Santa or a Snowman has a blank plaque underneath them or to the side intended for the recipient's name and/or date. There are even Christmas ornaments that contain a line of elves, reindeer or angels that allow for each character to receive a name of multiple recipients. These would be perfect for a family with many children, but perhaps too big to hang on the tree. In this case it would be a great stocking stuffer to give and use as part of a wreath or other way of displaying.
Another idea for a purchased personal Christmas ornament is to use pictures in one of the many different styles of display items. You can find tiny picture frame Christmas ornaments with the year and simple sentiments like; "Merry Christmas", "First Christmas Together", or "Baby's First Christmas". There are also companies that take a picture you have submitted and place it on glass ball Christmas ornaments, ceramics or metal ornaments. They can even place your submitted picture on a Christmas plate, coffee mug, sweatshirt, blanket or pillow. One of the highest selling items for the past few years has been a snow globe that allows you to insert a picture inside for the snow to swirl around. Some of the personalized snow globes even have a small music box attached with your choice of song of Christmas carol.
If you prefer to not purchase a personalized Christmas ornament and would rather make one of your own. There are many books and websites containing a wealth of ideas for truly handmade personalized Christmas ornaments. They range from the very simple for children to make to more complex designs.
If you like the idea of a small picture frame to hold a picture, you can create a picture frame Christmas ornament with items such as popsicle sticks, felt or salt dough.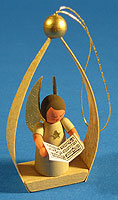 Popsicle sticks can be attached with Elmer's glue or a hot glue gun to form the frame. You can decorate your popsicle sticks by painting them like candy canes, using paint and glitter or attaching fake Holly leaves and berries. After the picture is placed inside the glued frame, you will want to attach a back to it, such as construction paper or cardboard. Once the back is attached to the front of the frame, you can then attach wire or ribbon to secure it to the Christmas tree. Felt pieces can be cut in the shapes of circles, gift boxes, Christmas trees or wreaths. After the initial shape has been cut, you will need to cut a small area in which to display your photo. Once again after the Christmas ornament has been cut and the picture attached you will need to secure it with a sturdy back as felt has a tendency to bend and wrinkle.
Salt dough Christmas ornaments are a favorite among children, leaving the design totally up to the creativity of the child. As with all crafts and activities, there needs to be adult supervision, but let the imagination of your child shine through their own ideas and design. There are books and websites available that can give you the recipe and instructions to making these delightful Christmas ornaments. Salt dough ornaments are easy to make and delightful once painted and ready for hanging.
More complex personalized Christmas ornaments are using ceramics, embroidery or knitting. These types of personalized Christmas ornaments are best done by an adult or with instruction. Although some of these are time consuming, the design options are a lot more open to reflect the creativity of the creator. You are sure to impress your loved one when they open their gift and see a personalized Christmas ornament just for them that they know was made lovingly with your hands.

If you do not have the equipment for making ceramics yourself, there are stores and workshops that you can go to where you can either make the ceramic Christmas ornament yourself with instruction or purchase an already made ceramic Christmas ornament that just needs to be painted, glazed and fired. The designs run from very simple to very ornate, small to large. Embroidery make a beautiful Christmas ornament when used with small picture frames, tea towels, handkerchiefs, etc. The possibilities in design are endless and the recipient will cherish the amount of work and feeling you put into your piece. Knitting personalized Christmas ornaments is extremely time consuming, but so worth the time to see a child's face delight in their very own Christmas stocking or a family member's smile at opening up a box containing a personalized blanket, shirt or scarf. Even knitting one-of-a-kind snowflakes for each family member that has been dated to hang on the tree.
Creating personalized Christmas ornaments is not only a fun activity that you can make into a tradition for your whole family, but it is a way to express your love to family and friends by showing them that you took the time to create something unique. Christmas time is all about making memories, spending time with those you love and giving with your heart. What better way to do that then with giving a personalized handmade Christmas ornament.