Why German Smokers Make Great Gifts
Why German Smokers Make Great Gifts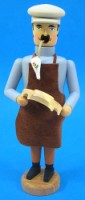 Whether you've been a fan and collector of German smokers for years or you're new to the fun and excitement that German smokers can bring, this is a unique gift that will put a smile on the face of anyone on your gift giving list. With literally hundreds of different styles, shapes, and sizes to choose from, a German smoker can be found that will please even the hardest to buy for person on your list. Don't believe it? Well, below you'll find just a few of the reasons why German smokers make great gifts for family, friends, co-workers, acquaintances, or even just for yourself!
German smokers are great for those people on your gift list who seem to have just about everything. You know who they are, they're the people that you just can't seem to find the perfect gift for, no matter how hard you try. Well, German smokers are great gifts for these folks because they're so unique and special that the chances that they already have one are pretty slim. Even if they do happen to have one, they probably won't have the one you chose for them because there are literally thousands of different smokers to choose from. Whether it's for your dad the doctor, your uncle the motorcycle enthusiast, your nephew the soccer player, or your old aunt Bessie who loves to garden, you'll find just the right German smoker that will make their eyes light up with joy when they see the unique gift you bought them. Choosing a German smoker that fits their own unique personalities in mind will definitely make a lasting impression on those hard to buy for people.
Buying German smokers for your entire family can turn a great gift idea into a hobby that the whole family can enjoy for years to come. You can start out by choosing the perfect German smoker to go with each member of your family. Year after year, for Christmas, birthdays, anniversaries, or other special family events, you can add to each family member's collection of German smokers. No matter what the occasion, each person in your family will cherish these tiny expressions of your love. German smokers will always end up on the top of everyone's wish list too, so you'll always know you won't go wrong with buying additional German smoker over the years. This is a great way to start a unique hobby and a family fun activity that is sure to continue on for generations.
You can also turn your collection of German smoker figurines into a family tradition. In Germany, families place their German smokers in each room of the house at Christmastime. During the Twelve Days of Christmas, the smokers are lit and German incense fills the house with the smells of the season. Traditionally, the lighting of the incense was meant to chase away the evil spirits that may have accumulated in the house over the preceding year. As these German smokers whimsically blow their incense around the every room of the house, the evil spirits are chased away and the new year begins with a fresh and positive start. This is a wonderful tradition that your family can also adopt as you collect a new German smoker each year.
While German smokers make great gifts for all your close family members, they are also wonderful gifts for non-family members. Sometimes it's difficult to know what to buy for your friends, co-workers, teachers, and other acquaintances during the holidays, but you want to show them you care with a special and unique gift. German smokers are the perfect gift for those special people in your life that you want to buy a gift for, but aren't entirely sure what they might like or enjoy. German smokers come in so many styles that they can please just about anyone. There are German smokers that are shaped like nurses, bakers, dentists, farmers, firemen, hairdressers, lawyers, office workers, police officers, teachers, and even waiters. Because of the wide variety of styles, German smokers are perfect for just about everyone you know.
Another reason that German smoker figurines make such great gifts is due to their uniqueness and fine quality craftsmanship. German smokers are hand carved from a single piece of wood by German craftsmen from the Erzgebirge Mountains in Germany. Nowhere else in the world can you find these unique smokers that have such an attention to detail that you and your gift recipients will be amazed at the workmanship every time you look at them. Such a unique gift will most certainly be treasured forever by the people you buy them for. It's the kind of gift that will really tell the people in your life how much you care for them by giving them such a beautifully designed and individualized gift.
No matter who you choose to give a German incense smoker to, you can be assured that they will love and appreciate their German smoker for years to come. They're just as much fun to collect as they are to own. Many people start out with just one and end up buying a whole collection of German smokers because of their uniqueness, sense of fun, and quality workmanship. So, whether you're buying a German smoker for someone who has been collecting them for years or giving one to someone who has never even seen one before, you'll know that your gift will be one of the ones that standout and will continue to be cherished for many years and/or generations to come.