Imported German Crafts for Gift Ideas
Imported German Crafts for Gift Ideas
For Dad…
Does your dad have any hobbies (golf, gardening, woodworking, etc.) that he especially enjoys? Does he enjoy his job? There are numerous German Smokers. These come in a variety of occupations, some are quite humorous. These would make a terrific Father's Day or Birthday gift for your Dad.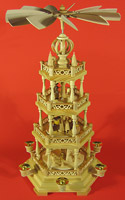 For Mom…
Get your mother a German Candle Pyramid, or Candle carousel. These make terrific table toppers and are quite eye catching. Consider purchasing one for Christmas with a holiday theme, or get a nature one that your mother can use to decorate her home throughout the year. A German Candle Pyramid is an heirloom she will enjoy.
For Boss/Clients…
Find a unique gift for your boss or valued clients this year. They will remember an imported German smoker or nutcracker. Show your sense of humor by giving them one that fits their occupation or their hobbies.
For Newlyweds…
Help the newly weds begin a lifetime of Christmases spent together by providing a collection of heirloom quality ornaments imported from Germany. Be creative, buy them one for each year they were together before they married.

For Grandparents…
"Opa" & "Oma" is German for Grandpa and Grandma. Show your grandparents you love them with a German mug. To make this gift extra special, consider filling it with small treats for them.
For Anniversary…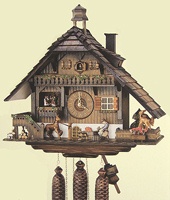 There is no better gift to illustrate the pass of time spent together than a clock. A handmade cuckoo clock imported from Germany would tell your loved one that they are unique and cherished by you, throughout time.
For Housewarming…
Consider purchasing hand-sewn table linens for the new home. These are unique and the embroidery is exquisite.
Every home wants to smell good. An imported German smoker would waft scents of incense through the home. The smokers come in a variety of characters, a sure fit for every new home.
For the difficult-to-buy-for-Him...
A cigar box that is intricately carved and stained would make a perfect gift for the guy who makes gift shopping difficult. The box is hand-crafted and can be put to many uses.
For the difficult-to-buy-for-Her…
Remind your friend that you are there for her, that she is not alone with a village pyramid. These German candle pyramids display fellowship and camaraderie between neighbors and friends.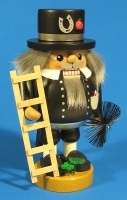 For Distant Acquaintances…
A German imported and hand-crafted nutcracker would make a great addition to any home/office. It is functional for breaking open nuts, but is magical and whimsical as a decoration.
Gifts of thanks & friendship.
Gift a gift of "Jolly" with a German smoker. They are full of energy and scent as incense wafts from the inside of these decorative figurines.
Gifts of care & well-wishes Tell your friend to get better and listen to the Doctor's advice with a Doctor or Nurse German smoker. These will bring a smile to any sick room.
Consider giving a gift of a music box and wishing your friend a peaceful moment. If you would prefer, there are CDs of the Swedish made music box tunes. These will remind your friend to take a moment and reflect during a hectic time.